I am Cadet Mothersole, I'm 17 and a member of Kent Volunteer Police Cadets, (K/VPC). VPC is a nation-wide cadet program run for young people aged 13-18 who have an interest in policing or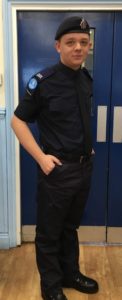 volunteering in their communities. I am a team leader for Team Bravo and lead 7 cadets.
As Police Cadets, we are ambassadors for the Force and represent the younger generation in policing. Although we have no policing powers, we still experience great policing opportunities like going on shift with the Local Policing Team and attending 999 calls, going out on patrol with Community Support Officers, learn fundamental policing skills and tactics, and learn about the law. We have regular input from external agencies like border force, the council, mental health charities as well as departments from the force like the dog unit, public order, marine unit, local policing team, firearms and recruitment, etc.
A typical cadet evening (held once a week) will begin at 18:30 with cadets participating in 30 minutes of drill, then either doing an indoor activity on policing or input or an outside activity. Then having a 15-minute break and completing the rest of the evening until 21:00.
I have lots of people ask me 'why' do I do what I do? I have always loved policing, helping people who need help and bring back law and order. I have always respected our officers and I have always dreamed of doing the job myself one day.
As cadets, you get taught your rights and the law, but you also get taught the tactics around it, stop and search, arrest, road Incident management, radio communications, rank structure and scenes of crime.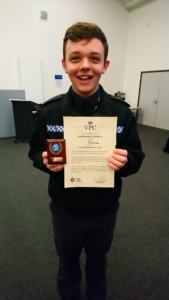 For more information or to register your interest to become a police cadet visit the Kent Police Cadets website.