I Need Help Now
Work through the following steps to help you recognise what you need
Step 1: Emergency
Are you in danger right now? Are you worried about your safety or seriously hurt?
If emergency medical help is needed, for example if there has been a recent overdose, dangerous self-harm, accident or injury – call 999 or go to the Accident and Emergency department (A&E) at a hospital.
Step 2: Speak to an adult you can trust
If you are worried about how you are feeling or how you are coping with life right now speak to an adult you can trust.
If you find this difficult you may want to speak to a good friend and do this together.
Some schools in Kent have Education Wellbeing Practitioners in Schools or school counselling services . Speak to a member of staff in school that you feel safe with and ask what may be available to you in or out of school.
If you live in Kent you can chat with a fully trained counsellor online 365 days a year on www.kooth.com.
You can also chat to a counsellor 1-2-1 online on Childline.
Step 3: Get support via texting
ChatHealth is a confidential texting service for young people aged 11-19. It is run by the school health service and you can message about anything related to your physical and mental health. If you need help text 07520 618850. You don't have to be in school to use this service.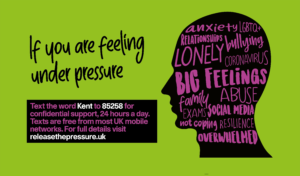 Text the word 'Kent' to 85258 for free confidential support at any time from Shout. Free expert advice from trained counsellors is available for every mental health concern, including:
anxiety
depression
low self-esteem
money worries
relationship troubles
stress
suicidal thoughts.
For more information about mental health support organisations visit Release the Pressure.
Step 4: Not sure what you need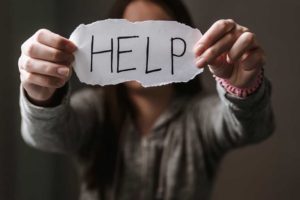 Sometimes it's hard to know exactly what you need, just that you need more than you can do for yourself. If this is how you are feeling then it may help to explain your feelings to someone who can help you work out what you need. This might be when your feelings are starting to cause difficulties with your school work, friendships or family relationships and it's all getting a bit too much.
SPA (Single Point of Access) – you can call SPA on 0800 011 3474 and speak to someone in a kind of virtual clinic. They will help you work out what you might need. You can explain to them how you feel and they will advise you on the next steps to feeling better. You may want to get someone to do this for you if you don't feel able to.
The School Health Service (a school nurse/youth worker) can support you and talk about how you're feeling, a particular difficulty or anything that is troubling you which you are finding too hard to deal with by yourself.
Call 0300 123 5205 or make a referral on their website.
Services you can contact directly without a referral
Advice and information on sexuality or LGBT+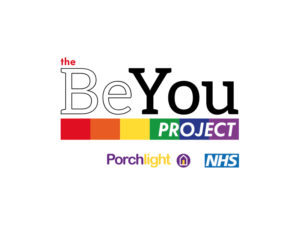 If you would like information on sexuality, or want to talk to someone about relationships or anything related to Lesbian, Gay, Bisexual, Transgender or questioning sexuality and identity, the BeYou project provides social and emotional support for LGBT+ young people. Take a closer look at the BeYou project here.
Self-harm concerns
YoungMinds, Childline and We Are With You offer information and advice on self-harm and tips on how to cope.
Calm Harm is an app to help with self-harm urges, offering tips, comfort and distraction.
Drugs and alcohol
If you are worried about your own drug or alcohol use you can contact We Are With You. They provide friendly, confidential and expert advice on drugs and alcohol online or at one of their local services.
National support organisations
Childline – for information and advice on lots of different topics that affect your mental and physical health click here. You can also call childline on 0800 1111. It's confidential and you don't have to give your name if you don't want to.
Young Minds offer information, advice and support to young people about their mental health and wellbeing.